This year was my first running the Ravenswood neighborhood 5K. I did want to run the race last year, but it fell on the same day as the Good For Life 5K, another fine race that I was already registered for. I had heard nothing but good things so I made sure to sign up this year when I learned there would be no conflicts.
When I had first registered I had hoped to make this a goal race. I haven't made an attempt at a 5K PR since setting my current best at Race to Wrigley last year. That 22:00 is teasing me saying that with just a little more effort I can get below 22. Getting closer to race day I realized that there was no way a best was going to happen. My running consistency has fallen apart due to various little ailments and illness. With a fast race no longer in the plans I decided to enjoy the beautiful weather this past Friday and went for my longest run since February. I logged 8 miles which is 2.5 miles longer than anything since the 14 miler I did on February 16th. I also wanted to get something in before I tackle the Wisconsin Half Marathon this coming weekend. The Ravenswood 5K turned into a tempo run on not fully recovered legs.
On Saturday I did my packet picket at the new Fleet Feet in the Roosevelt Collection. I was already down in that area taking care of UPS laziness in not wanting to actually delivery a package even though that's kind of what they're supposed to do. I've been the Roosevelt Collection a few times before to see movies at the Icon, but this was my first time in the store. The pick up was quick and so was browsing the store. It was on the smaller side. They did have some boxes of clearance gear I couldn't help browsing through. There was a nice wind jacket I could of probably used, but decided to not spend the money.
I like the logo
So for the first time in my history I went to bed at a semi decent hour for a morning race. It was lights out at 11PM instead of my usual post midnight. I felt pretty refreshed when I awoke on Sunday morning. I still wasn't looking forward to the cold, windy, and potentially rainy race conditions though. Me and Jennifer coordinated buses and headed up Clark. I should say the bus driver flew up Clark. Can bus drivers get speeding tickets? We were there just before 7AM and people were still setting up. We walked around and I used the restroom. Eventually the time came to drop stuff off at gear check and get to the starting corral. Not long after we were on our way.
Mile 0-1 featured several speed bumps in the first half mile. They were well marked as well as having course marshals letting us know they were there. I focused on form and making sure I wasn't overdoing things. I can't remember if it was during the first mile, or the 2nd but I heard some guy tell his kid "hey there's the mayor!". I looked up and sure enough there was Rahm Emmanuel out cheering on the runners and giving high fives all by his lonesome on the side of the course. One of the running buddies, Lynton, would later keep him company and get a picture together. My pace was 7:29 which was right about on target for what I was trying to accomplish.
Mile 1-2 is where things started to get tough. I held up pretty well until the 1.5 mile mark like I did at Good for Life, but this time it wasn't fatigue that got to me, it was the fact that my ankle was starting to burn. I think the fact that the streets not being level was causing a little bit of excess motion on my ankle and it wasn't ready for it since I've done most my miles on the much more forgiving treadmill this year. I told myself it was a short race and I'd be done soon. I did let myself slow down and just shadow people as we turned up Lincoln. My pace reflects this as it was a 7:41.
Mile 2-3 is where things got tough. There was a nearly half mile stretch of running into headwinds down Lawrence. I put my head down and tried to truck through it the best I could. I was doing somewhere around an 8 min pace at this point and knew going any faster was going to be tough. I was going to conserve my energy for the turn down Damen. With a half mile to go I picked up my pace and was now doing around 7:20 without the wind in my face. My pace for the mile was 7:47.
Mile 3-3.1 The homestretch is where I really tried to pick up some steam. We were going into the headwind again which made it tough. I spotted Pete who shouted out some encouragement to me and I was able to get the legs churning for a strong finish. 6:47 Pace
My time was 23:45 which was only 3 seconds slower than I ran Good For Life a few weeks back. It was definitely right around where I wanted to be given the less than fresh legs and the wind. Once I finally start doing some speedwork I think that 22 might fall later this year.
After going through the finisher's chute I headed down to get my bag then went back to find Pete. He was MIA at that point so I walked back and forth looking for familiar faces. I finally found Pete with Anne and Bob in the middle of the race site. Pete went off with his dad and I let Anne know that there were Ann Sather cinnamon rolls to be had. We went and got some and spotted Jennifer and Mo coming back from gear check along with Lynton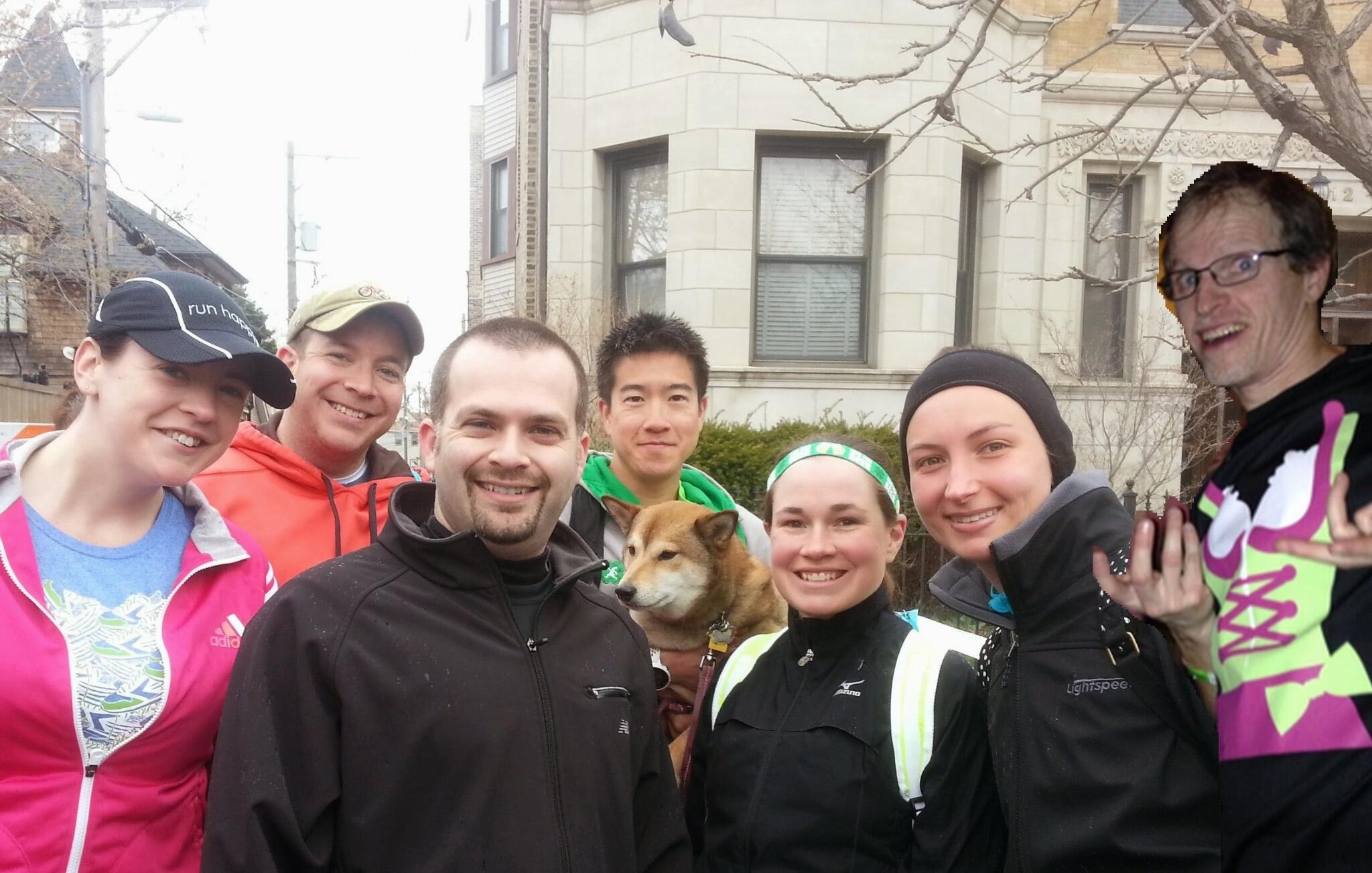 It started to sprinkle a bit so we decided to get brunch. There was beer involved. It was fantastic.
Next Up: Wisconsin Half on 5/3